Spineggcoeur
S

pineggcoeur

with Félix Albert - 2014 A unique object, this mysterious box in wood, silver and solid gold was a wedding present. It is the fruit of joint thought, and the creation of many different hands. It was born of the loving gesture of a father for his son, who loves spinning tops, in a lifelong bond of friendship; aeronautically inspired; and a challenge in terms of materials and time.
The order said this:
« I would like something made of Koa wood and silver: something light-hearted, yet intriguing to look at and to manipulate." »
The first design worked, and after many, many questions about the assembly and the mechanism linking the two parts of the box, we were off. Modelling, melting, hammering, turning, adjusting … plus a good helping of intuition allowed us to create this object.
This « nut » is a case which contained two wedding rings, dancing free from the stalks of two spinning tops, which just touch. These two Koa-wood spinning tops are magnetised at the base and in the upper part of the box.
Thanks to M. Petiteau, we discovered the wood of the Alizier (wild service tree), found in the forests of the Loire: very dense and speckled with attractive brown markings, we chose it without hesitation, to make the upper part. The base of the box is in solid stainless silver, and its internal hinge in solid 18 carat gold.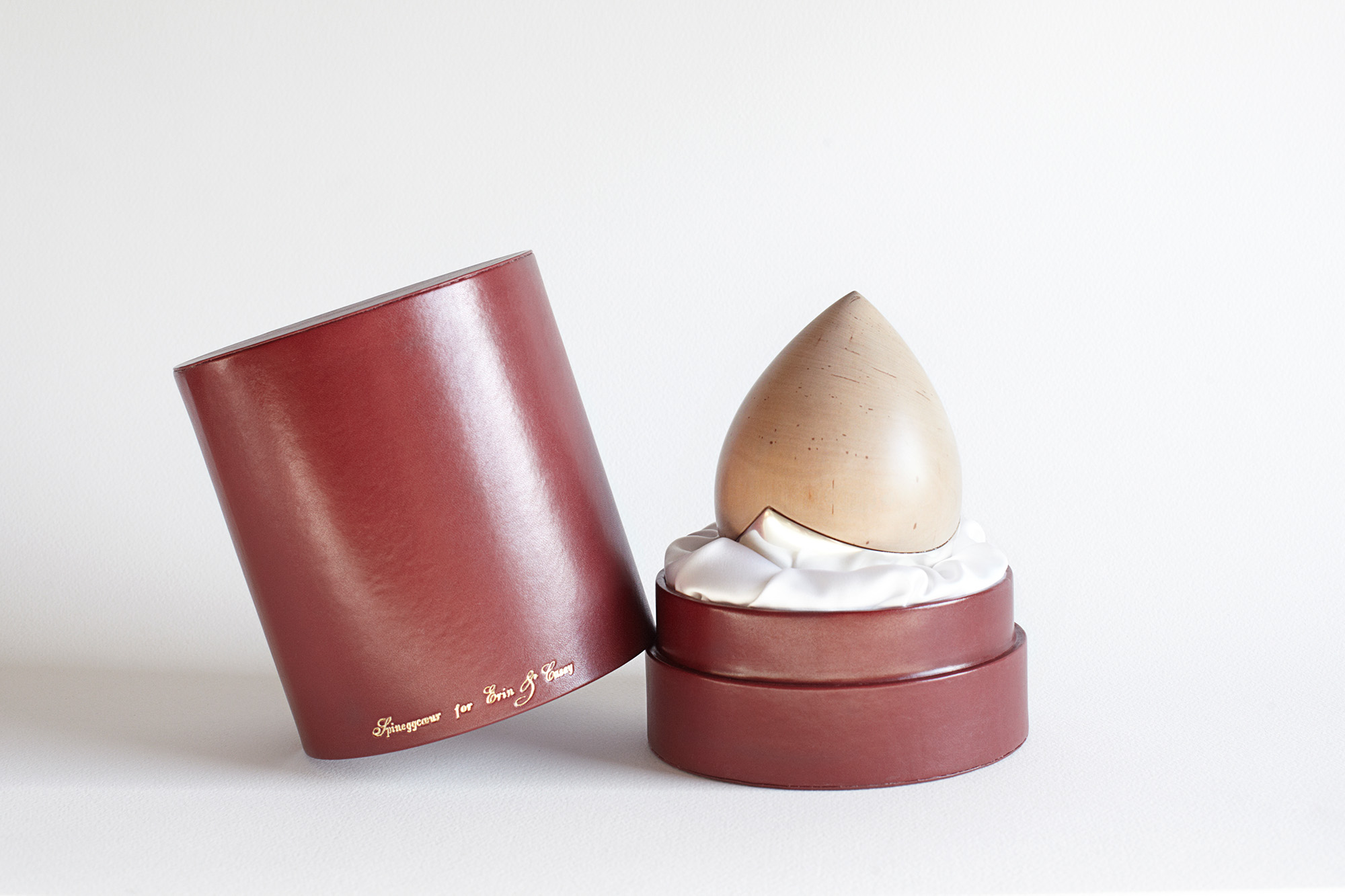 The name Spineggcoeur is a made-up word, a mixture of French and English with a nod to the spinnaker, the name given to the sail which is hoisted at the front of a yacht when the wind blows from the rear.
Thank you, Terry, for your trust;
thanks to M. Jean Joseph Pettiteau for the wood-turning; and to Jean Michel Larrive, Richard de Fonderie du Palais, Karen Charrier and Marie Benattar for their wonderful photographs.
We made the case using traditional bookbinding techniques: thanks to Laura Carlu, who taught us!